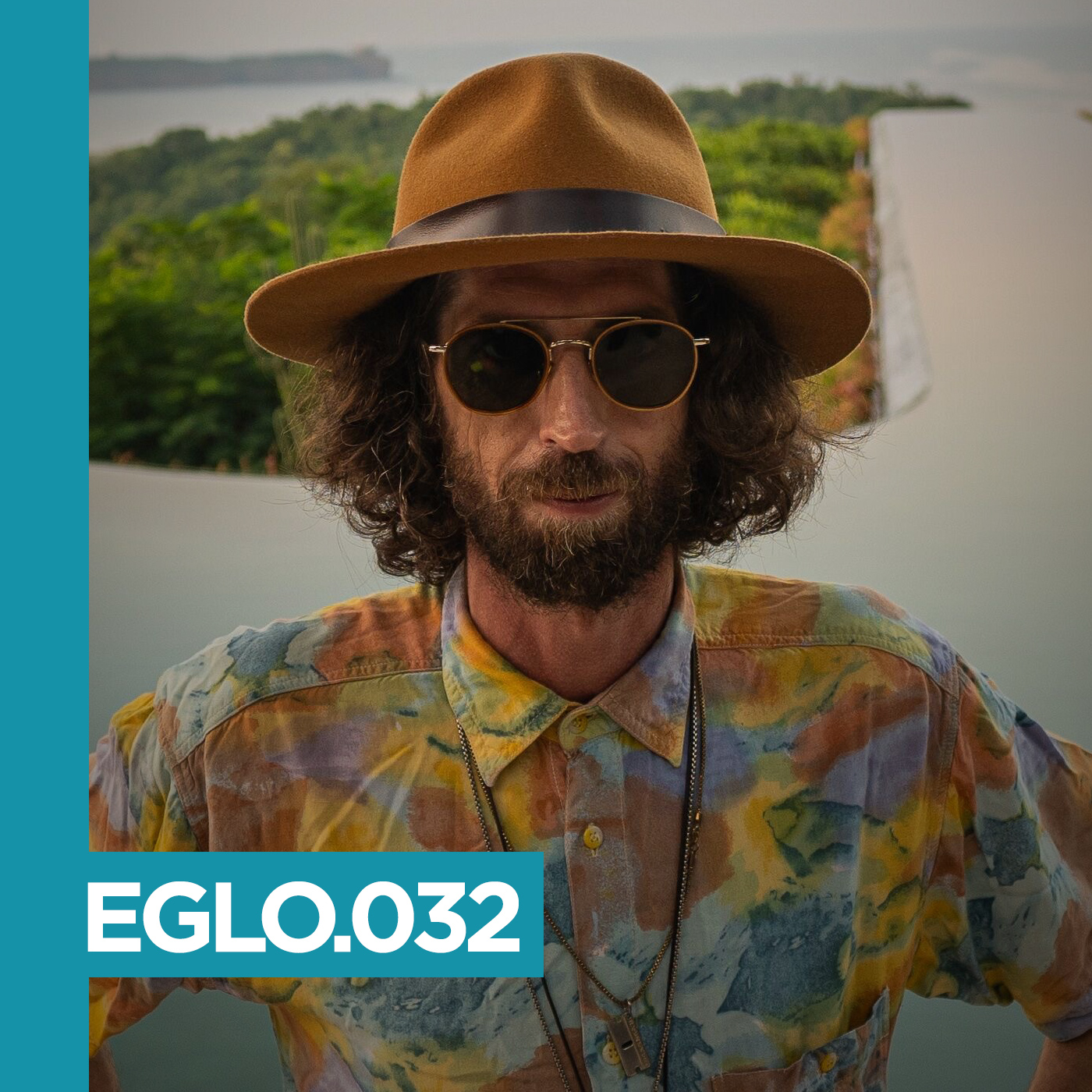 [mixcloud https://www.mixcloud.com/egpodcast/eglo032-shane-one/ width=100% height=60 hide_cover=1 mini=1 light=1]
** This mix was recorded live at at the Saatchi Gallery, London
"I like to cover as much ground musically as possible and that's definitely the case with this one. I try and maintain a sense of unknowing anticipation about where things are going and I'm never afraid to make a hard left turn into territory that may seem counter intuitive —but makes complete sense to me. Even when mixing different genres for what can feel like multiple dimensions, I try and maintain a common thread that pulls it all together. Both sides of the sword and all that." –Shane One
Text by J Susan
As this is written, Shane is flying home from Ondalinda––a boutique festival said to combine local tradition, natural wellness and art. In addition to his scheduled set in the majestic mountains of Careyes, Mexico, Shane mused of an impromptu after-party at someone's villa where he played a ridiculously cartoonish track, Cool in da Pool as everyone swam about, high as the hills. Though Shane's enclosed mix may have originated in a considerably drearier climate here in London, we think it's the disco mix with the biggest splash.
A San Francisco transplant born and raised in New York City, Shane is known for his eclectic style of low-slung house and disco. A Shane One gig may commence in a number of creative ways but invariably a funky baseline will prevail setting dance floors afloat.
Where Shane procures such unique tracks is usually his secret but he did impart that Cool in da Pool was the result of an unmined hard-drive-dump from Holmar —formerly of Thugfucker of whom Shane has recently shared some b2b sets, studio-time and general tomfoolery. After touring the world with Pillowtalk for the last five years, 2020 will see Shane focus more on his solo career and studio collaborations of which he's already gained a fruitful start. Come festival season, Bombay Beach Biennale, Lightening in a Bottle, Dusk and Sunset will keep Shane close to his California home while Meadows in the Mountains, Love International and Houghton–– peppered with regular gigs in Amsterdam and London–– gives him passage back to his other love, Europe.
It was actually Craig Richards who kicked off Shane's affair across the pond after the two rendezvoused at Burning Man some years ago. The set contained herein is a dedication to that union aptly name the "Houghton Appreciation Society"––a lovechild-pop-up comprised of Howie B, Jonny Rock, Shane and visual artist, Dan Macmillan—which took place at the Saatchi Gallery's Sweet Harmony Exhibit on the unfortunate weekend that Houghton did not. Most of the songs in Shane's set were selected for the artistic environs of the Norfolk festival, but the Saatchi Gallery is also a fine fit for the DJ whose grandfather was Rosser Reeves, a renowned adman acquainted with Charles and Maurice Saatchi.
Though Shane might drop a cinematic ditty like Dueling Banjos to lighten our collective mood, he is anything but silly when it comes to music. Growing up singing in the Metropolitan Opera and having studied piano at both the Mannes and Manhattan schools of Music, Shane's vision is more about musical freedom than whimsy. The opera production may have replaced him when he outgrew his costume at age thirteen but Shane will ensure that his favorite jams come to no such fate. Combining 90's R&B, new wave and Italio disco, Shane's eclectic gems are excavated from various decades inviting the unsung to sing and ensuring that the wild and forgotten can mingle with the most principled of re-edits. The result is not steadfast technical perfection but it sure gets a party going.
Perhaps this is why as this article is edited, Shane's recorded DJ set is the most requested from the aforementioned Careyes festival––according to the organizers. This spirited response to Shane's music is not new. Having developed a loyal following, some of his earliest Soundcloud mixes are still the most played. In a modern musical race concerned with the latest and greatest, it's puzzling indeed.
It could be that the pure diversity of tunes Shane employs is an oasis in the desert. With Burning Man scaling globally, ayahuasca ceremonies on every corner and the raver-turned-spirit-guide phenomena in prominence––perhaps we have fire-danced ourselves into a corner. The shamanic house sound characterized by klezmer-style clarinet and too-earnest guitar-riffs echoing over the playa has come to represent the seekers in dance music but it can also feel like one, slow caravan to nowhere.
Where are the dynamic bass lines and syncopated rhythms of which the scene's multi-ethnic aesthetic is derived? Shane's music taps into a wider palette of colorful intonations that celebrate a playful universe reminiscent more of the the P-funk spirit than flute music at a San Pedro ceremony. George Clinton, Bootsy and his intergalactic crew were some of the weirdest, LSD-gobbling, freaky motherfuckers out there riding the mothership of Dr. Funkenstein for the soul-purpose of the highest funk deliverance. At what point fun and spirituality parted ways on the dance floor is a mystery, but let us not forget the wisdom of the late Ram Dass who espoused a healthy dose of revelry with sanctity and reminded us to
"Treat everyone you meet like God in drag."
Shane flies the freak flag but also knows when to plant it in the ground. Creating a musical journey is cost of entry for any rising DJ but landing a great track and letting us roll around in it awhile is an undervalued art. Shane's Saatchi Gallery mix sends us on an interdimensional ride through diverse civilizations, colorful personalities, lush landscapes and deep grooves that will have us falling in love with our own inner fireworks. Then the Biggie sample drops, we open our eyes to find that we're actually still at this afterparty, tequila in hand at 4am, swaying our hips on the makeshift-dance floor surrounded by our favorite friends. Cheers to 2020!