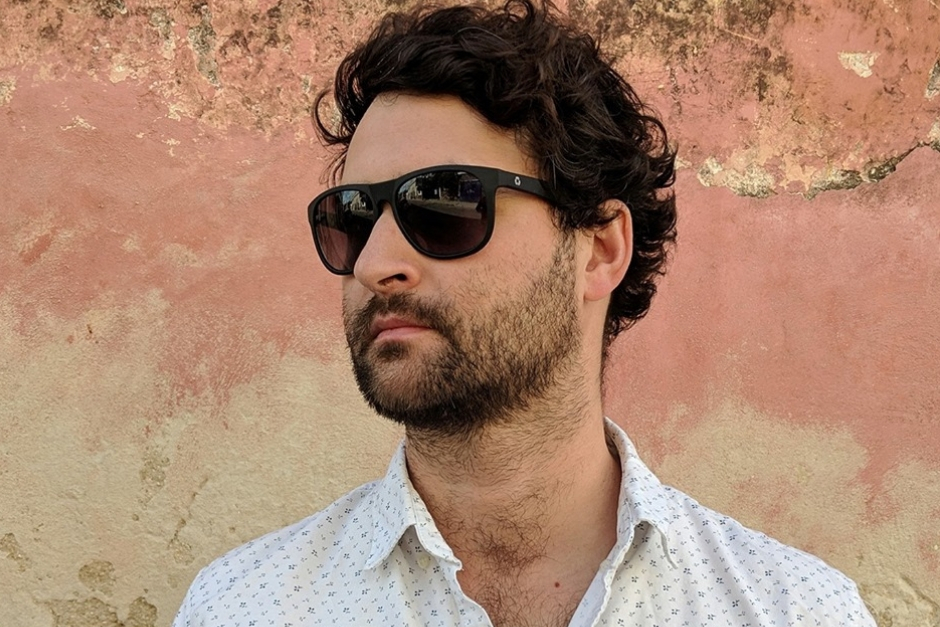 GROJ shares 10 of his most influential tracks
GROJ is an electronic musician, singer-songwriter and live act. Expect warm melodic music, a direct style filled with personality and cutting edge beats. Over the course of his releases, he opened up to more diverse creative possibilities. His rumbling rhythms and far-reaching dance floor anthems are perfect to build up tension on the dance floor. Sounds are subtly played out, yet crystal-clear and easy to recognize, especially as soon as you hear his signature voice!
GROJ is about to release a new single 'Transmission' on microCastle. For the special occasion, he has shared some of the most influential tracks on his musical career.
1. Happy Mondays – Hallelujah (Club Mix)

"Many people would agree this was a key club anthem to hit the UK dance floors in 1989 and marked the switch from punk to club raving in an important way. I listened to this quite a lot early on".
2. The Deep (Burundi Twilight)

"I discovered this track a few years ago through a friend in Montreal who is great at digging and finding awesome old-school stuff. For him and me it is hands down the grooviest house bass-line ever mixed. All the vocal and harmonic work around the bass is very tastefully done too and supports the track to perfection. A great track that brings many different backgrounds and people together". 
3. Adam Freeland – Silverlake Pills (Gui Boratto Remix)

"This was one of the tracks I listened to on repeat as an 18 year old entering the world of electronic dance music. Gui Boratto's interpretation of the original was a stellar piece of remixing. He carved that gorgeous melody out of the original chord progression and kept the music true to his signature sound. The mix just has the right level of simplicity and contrasted happy and driving energies in a timeless way".
4. Luke Abbott – Modern Driveway

"It is difficult to choose a favorite Luke Abbott track, between this one, Melody 120, Brazil and all of the Holkham Drones album really. I chose Modern Driveway because it has that 3 by 4 polyrhythmic chord arrangement which I work a lot with these days. He was one of the first to really nail that vibe into a classic analog summer dance track. This is an artist that will be remembered down the line. I had the pleasure to meet the man in 2011 at a Baleapop festival in France and he is a stoic, humble, open-minded and inspired person. He is doing some very cool stuff now with his band Szun Waves". 
5. Gabriel Ananda – Ihre persönliche Glücksmelodie

"When this came out I think the word FUN just took on a whole other dimension. A masterpiece of happy meaningful german electro that took over the world and launched Gabriel's career as a joyful/soulful electronic music genius. There are so many Ananda tracks that rocked my world, but I think this one had the most impact. Other soft spot would be his track Süssholz which highlights more of an experimental IDM side".
6. Aphex Twin – Vordhosbn
"The genre of "Intelligence Dance Music" had a lot influence on my sound, especially for the early work. I still feel its influence today in subtle ways and in how I think about my newer music. The Guru in this field is AFX/Aphex Twin and Vordhosbn always stood out as his opus to me". 
7. Petter – These Days

"A classic psyched out dreamy track – the melody here is simply beautiful, sound textures are very interesting all on a cool breakbeat rhythm. The track is a majestic set ender. I was always sad that Petter didn't release more music in general and was content to remain a mysterious figure in the scene. But some people call that trait integrity". 
8. Marc Romboy & Stephan Bodzin – Ferdinand (Original Mix)
"This was a great deep melodic minimal techno anthem, would still do some damage today. Shaped the more darker driving side to my music and is a great sound design model for making electronic sounds and simple arrangements".
9. Dominik Eulberg – Sansula (Max Cooper Lost In Sound Remix)
"I remember this track had a big impact on my desire to start making melodic club music. Before that my music explorations were more listening-based only. It was Max's big breakthrough track on Traum. I still hear him playing it out, the arrangement on this one was very graciously done and came out better than the original". 
10. Avus – Poppy

"Great pioneering piece of hypnotic minimal melodic techno. Avus always kept things real and rustic sounding. I had the pleasure to work with him on a remix with my track Phoenix and he made a haunting interpretation. Furry Hat is also a great selection from his work".
GROJ's 'Transmission' will be out June 7th on microCastle. Grab your copy here. 
Follow GROJ: Facebook| Instagram  | Soundcloud