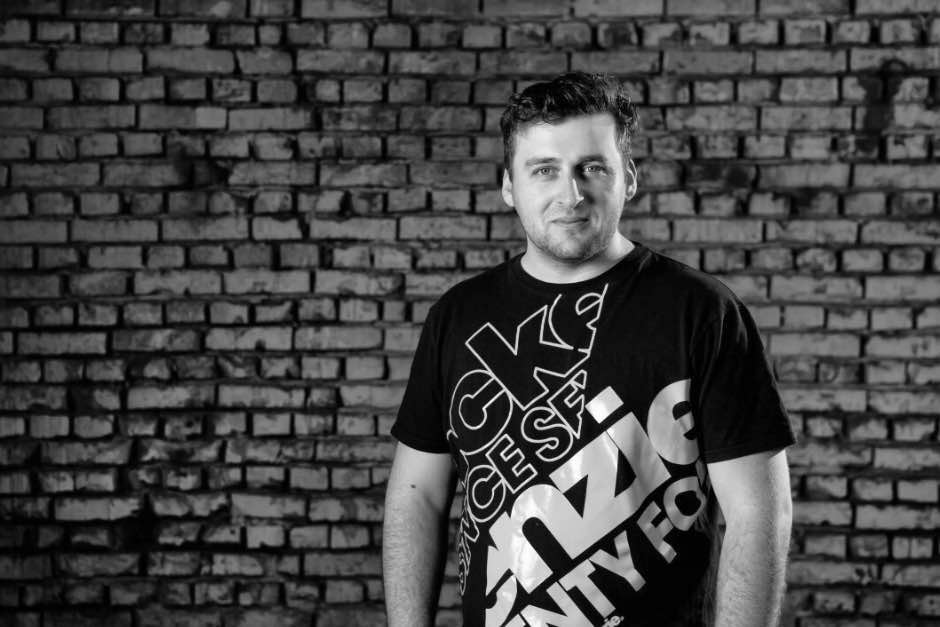 Horatio shares some of his favorite Summer tracks
The larger than life eastern European is reflective of the company, with a legacy that stretches from the erstwhile grooves of super group Ar:Pi:Ar to the monolithic presence of Bucharest club Du Jour Kristal. Since exploding onto European notoriety with his sex-drenched remix of Riva Starr's 'When I Was Drunk', Horatio has hit the dance music fraternity with a bevy of pounding beats. His fans have ranged from Vilalobos to Reboot, Heidi to Hawtin, with DJ's across the planet enjoying his sassy interpretations of the razor sharp grooves of modern dance music.
Now Horatio shares some of his favorite tracks at the moment as he recently released his latest EP, 'Cala de Eivissa'.
1. Horatio – Cala De Evissa (Robot Needs Oil Remix) – Revolucion Records
"One of the must-have tunes from this summer in Ibiza. I created this tune during the last season from Ibiza and Greg did an amazing job in remixing it. If you like deep-tech, groovy, Balearic, sunset tracks this is the one to have :)"
2. Horatio – Friends or Foes – Lucky Life
"I am so proud to say that I am part of the LUCKY LIFE family. I love releasing on this Ibiza based label. I became very good friends with Mike and Ben and I must say the party from this summer from PACHA IBIZA was off the hook."
3. Larisse Van Doorn – Biotic  – Natural Rhythm 
"Much to my suprise this tune gathered over 50,000 shazams and it was releasead as a vinyl only on my label Natural Rhythm. It received high praise from heavyweights like Villalobos, Sonja Moonear and more and is my favorite for starting the sets."
4. Alex Twin – Cut Off – Natural Rhythm 
"Alex struck gold with his previous tune called Paradox. We asked him to do a follow up to this tune and Cut Off was born. The track is just a monster tune."
5. Glitech Pavel – Spoken Words – Quanticman Records
"I met Pavel in my hometown on a Raveolution party. We played together and I discovered a spirit akin to mine in him. He reminds me a lot when I was younger. The track is a genius mixture of oldschool and minimal and a must have for everyone"
6. Bogdan Olaru – Ai O Tigara – Quanticman Records
"Bogdan is a guy with quite a lot of experience which improves with each EP that he releases. I'd keep my eyes on him as I feel that he will be a solid name"
7. Elchinsoul – M24 – Natural Rhythm 
"Me and Elchinsoul go way back, over ten years ago, and we both kept our passion alive. Recently he played twice for my party and each time he killed it. As a producer he is one of a kind. Each tune being supported by a big name from the industry and his music also being on an essential mix on BBC Radio 1. For a father with two daughters, a stressful day job, a lot of responsibilities I can say that he and Bogdan Olaru are true examples of how you can balance the musical life with the normal life"
8. Mathew Jonson – Kissing Your Eyes (Tale Of Us Remix) – Crosstown Rebels
"I would say that this track is just an amazing journey and I was very suprised that it got away without more attention. It's techno, it's minimal, and it has a wonderful theme. One of the biggest tunes for me and still being played heavily in my sets"
9. Cyber Unit Soul & Trippy Soul – Genuine Pleasure – Quanticman Records
"These young producers are striking once again. Trippy Soul is a very talented producer with a deeply minimalistic, Romanian rooted direction"
10. Roger Sanchez – Morning Prayer – Stealth Records
"It's the perfect tune for playing in the morning. I respect a lot Roger for what he stands for and for keeping such a high level of quality in his tunes. How can I describe a guy who is a legend with words like magnificent, amazing, wonderful. I don't have enough good words to say about him"
Horatio's 'Cala De Eivissa' EP is out now on Revolution Records. Grab your copy here.
Follow Horatio: