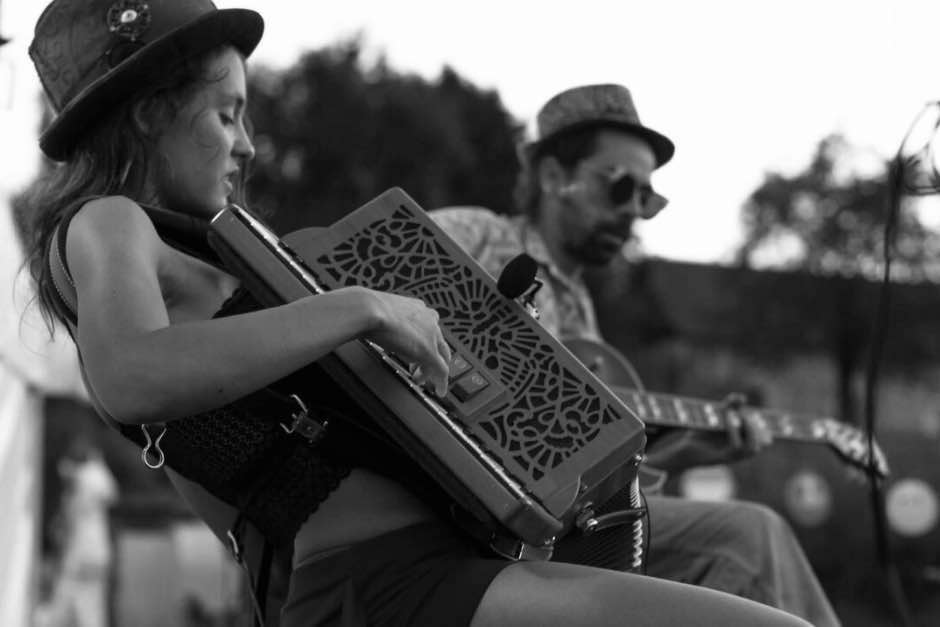 Moonanga shares 10 tracks that inspired his latest EP
Moonanga was born from a fusion between world and electronic music. It was during a meeting that Maud Cavalade and Sébastien Cheppe decided to get involved with their new project. Animated by the same passion, they distyle an innovative and enthralling style. Coming from a blend of flavors. Guitar and accordion will be incorporated on electro, nu-cumbia, global bass, balkan beat and acid techno rhythms.
Moonanga recently released their latest EP 'Munay' on El Flying Monkey Records and we asked to select some of the tracks that inspired them to produce it.
1. Afrosound –  El Pesebre
" A very important band in the Cumbia and Chicha history. We saw them in concert during our trip yo Colombia"
2. Lascivio Bohemia –  Caderona – Edmoon Records
" An incredible mix between Afro tribal and Andes music"
3. Nicola Cruz – Puente Roto – ZZK Records
"A very smooth trip, this song takes you to a sweet place"
4. Chicha Libre – El Borrachito – Sonido Amazonico
"A very famous band in the history of Peruvian Chicha"
5. Armando Hernandez – La Zenaida 
" A big hit and Cumbia classic"
6. Peter Power – Sun Sun Damba – Multi Culti
"Sweet chant for the soul. Afrotribal power"
7. Sacred Spirit, Ly-O-Lay Ale Yoya
"Memories of my childhood" 
8. Titi Robin & Mehdi Nassouli – La Femme Idéale / Live Session
"A very interesting mix of cultures"
9. Systema Solar – Yo Voy Ganao
"A music group that has definitely influenced the tropical bass and digital cumbia culture"
10. Johnny Winter – Johnny B Goode
"Sébastien Cheppe aka "Bigood" has had this name related to that song that he used to sing when he was a child. Also Johnny Winter has inspired through his life."
Moonanga's 'Secopia' is already available on El Flying Monkey Records.
Follow Moonanga and El Flying Monkey Records: