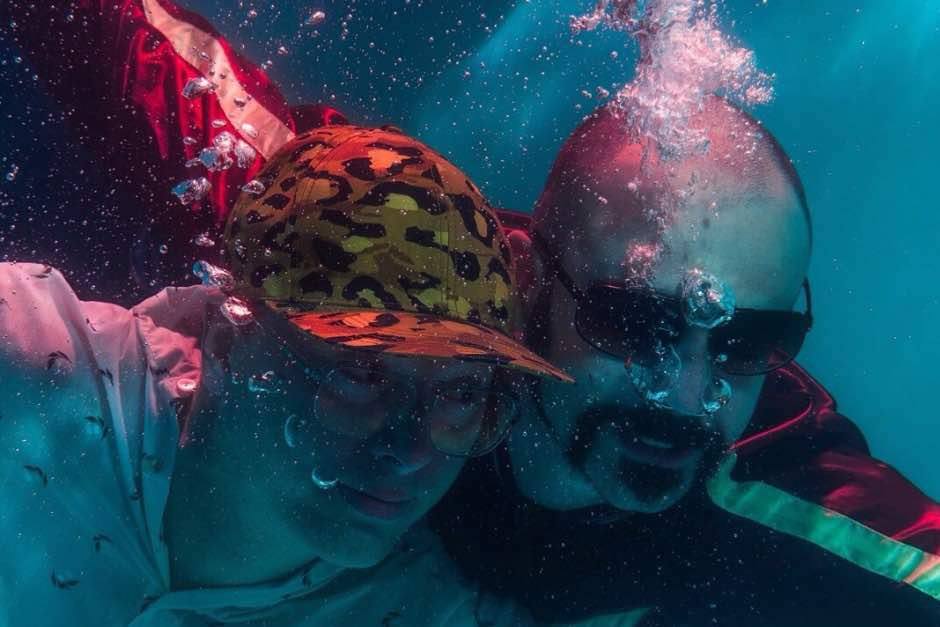 Psycho & Plastic share some of their most influential tracks
Following the release of their debut album 'Kosmopop'. Electronic Groove sat down with Berlin based live act Psycho & Plastic to learn about some of the music that's influenced their album and themselves as artists.
Psycho & Plastic's 'Kosmopop' is available now.  Grab your limited edition vinyl and digital version here.
1. Country Joe & The Fish – Section 43 1967
"A true gem from the Summer Of Love and the great psychedelic wave of the West Coast. Tripped out and playful, complete with face paint and patterned shirts – acid rock bliss."
2. Can – Oh Yeah 1971
"Where does one even start with Can? Otherworldly, funky and really far out… Oh Yeah is brimming with the impeccable groove of Jaki Liebezeit and Holger Czukay, inventive edits, and keeps intensifying while maintaining a pristine musical flow throughout. The real man machine and an all around huge influence."
3. Cluster – Für die Katz 1972
"Hans-Joachim Roedelius and Dieter Moebius pioneered both ambient and noise music before the terms were even coined. The composed musicality of their use of noise and space has left marks all over our album, most notably on Boojum and Superflare."
4. Giorgio Moroder – Chase 1978
"Giorgio Moroder is of course THE go-to guy for vintage synth porn, analog sequencer goodness, catchy hooks, disco vibes and moustaches. On Kosmopop, look no further than Planet Seductron for his influence."
5. The KLF – Stadium House (The Trilogy) 1991
"The KLF had it all – the concept, the mystery, the humour, the controversy and the devilish ability to marry the worlds of dance music and pop. Via MTV, they beamed dance pianos, 303 acid lines, beats, samples and vocoders into places that were light years away from any club or rave. And we payed close attention!"
6. Massive Attack v Mad Professor – Radiation Ruling The Nation 1994
"Where would electronic music be without dub? A combination of space, weight and trippyness, this whole album is killer and Mad Professor more than lives up to his name. Compared to where we started out, Kosmopop is a restrained and spacious affair, and Entropy the best example of how we reinterpret dub vibes."
7. Leftfield – Afro-Left 1995
"A prime example of sampling techniques used to great rhythmic and timbral advantage while enriching dance music with sounds from the, well, left field. The album Leftism is a creative touching stone for us, with its out-there spirit, non-dance music elements and the sheer fact that it was one of the first concise album length releases rooted in 90s house."
8. Bomb The Bass – Bug Powder Dust (Kruder & Dorfmeister Remix) 1996
"Off-kilter raps that tap deeply into the psychedelic continuum, swirling synths and filter sweeps, a dubbed out, downtempo production with lots of echo – we love everything about this track! And we made sure to use similar elements all over our productions on Kosmopop."
9. Mouse On Mars – Polaroyced 2012
"Mouse On Mars are consistently pushing boundaries while remaining playful and sometimes downright cheeky in their music. Their album Parastrophics has provided us with so much joy and motivation that we couldn't help but include our own musical love letter to Jan St Werner and Andi Thoma on Kosmopop in the form of Funk Officer (Land That Spacecraft)."
10. Cyclopean – Fingers 2013 
"Liebezeit, Irmin Schmidt (both of Can), Burnt Friedman and Jono Podmore are legends and inspirations in their own right. Together as Cyclopean they formulated an enchanting vision of what electronic music can become once it's taken into a new territory, beyond familiar conventions."
Psycho & Plastic's debut album 'Kosmopop' is available now.  Grab your copy here.
Follow Psycho & Plastic:
https://www.facebook.com/PsychoAndPlastic
https://soundcloud.com/psycho_and_plastic
https://twitter.com/PsychoPlastic