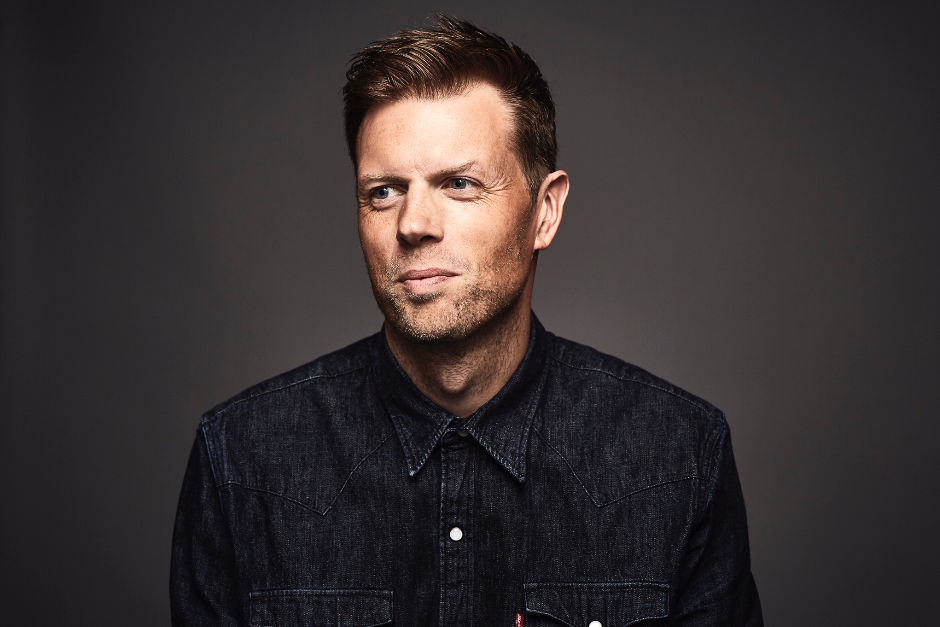 Kevin McKay shares some of the tracks that have influenced his music career
Dj and producer Kevin McKay has been making records since the early 90's. His Glasgow Underground label has been entertaining house fans since 1997. He has produced Mylo's Platinum album 'Destroy Rock & Roll', UK hits as Linus Loves and Traxsource #1s under his own name.
Kevin McKay is about to release his debut solo album 'The Love Forever'. For the special occasion he has shared some of the tracks that had influenced him through the years.
1. Jean Michel Jarre – Zoolook


"Jean Michel Jarre is the artist that got me into electronic music. When I was 12 I bought a compilation cassette of his first two albums, "Oxygene" and "Equinoxe". I think it was a totally random purchase from Woolworths. Before that I had just been listening to music I discovered on BBC Radio 1. What an eye-opener it was! It made me realise that there was a lot more out there than what was immediately available. While those two were my entry point to JMJ, "Zoolook" is probably my favourite album of his. It was released in 1984 and since I was a fully paid-up fan by then I bought it straight away. I thought it was cool how his use of sampling had developed and I was very into the kind of synthesisers and drum machines that he used (and that also appeared in early House music)."
2. Prince – Sign O' The Times
"This is the first album that I totally fell in love with. For me, the title track is up there with the best electronic records ever made. Like all my favourite records SOTT has soul, groove and heaps of emotion. From this, I went on to discover all the great Prince albums before it and songs like 'I Wanna Be Your Love', 'Sexy Dancer', 'Uptown', 'Controversy' and, of course, 'Kiss'. While these songs probably had more of an influence on how the disco side of my album sounds, when I think of Prince, this song is the winner every time."
3. Frankie Knuckles – The Whistle Song
"The Whistle Song' is the first proper house record I really got into. I moved to Glasgow to study in 1989 and some time that year started going to the Sub Club. I was into dance music, buying 12″ singles like LFO's 'LFO', but also going to see bands like the Charlatans. By the following year I was going to Atlantis, the Sub Club's Saturday night, pretty regularly and 'The Whistle Song' was one of the first tracks that inspired me to go up to the DJ booth and ask what it was. From there I started tracking down everything that Frankie Knuckles made and tracks like 'Your Love', 'Rainfalls' and his amazing mix of 'The Pressure' by Sounds of Blackness have had a big influence on me."
4. St. Germain – Boulevard (The Complete Series) 

"For me, this is the first house music album that really worked. Of course there were big albums before that but a lot of them were from acts like Inner City that had got signed to major labels and then put out records that were more song (or even pop) orientated. I was a bit late to house music, so while Mr. Fingers 'Amnesia' album (1988) is the kind of straight-up-house-music-in-album-format I am talking about, I missed out on it. So for me, the deep house grooves of Ludovic Navarre's 'Boulevard' was the first time I thought that house music could really deliver in a format other than 12″ singles, compilations & DJ mixes. I would hear it on the dance-floor and also in the pub the next day when everyone was recovering. I loved that fact and have always strived to make albums that did the same thing."
5. Daft Punk – Around The World (Kenlou Remix) 

"I couldn't do this list without mentioning Daft Punk. It would also be difficult to do this list without mentioning Masters At Work. Thankfully this track has them both in imperious form. Thomas and Guy-Manuel took house music to a completely different level. Their records were cool yet weren't understated; they had bags of personality but weren't over the top or cheesy. They also took sampling to another level. Their first album pays homage to the likes of DJ Sneak but the reality is that when it came to sampling, they were a step ahead. While their predecessors where looking for whole loops and hooks to steal, they were making new music from the cuts they took. Sure, 'One More Time' samples Eddie John's 'Spell On You' but you cannot listen to 'Spell On You' and find the hook at the beginning of "One More Time". Its not there. You can hear the chords but Daft Punk created something completely new for Romanthony to sing on and that idea of sampling was very inspiring to me."
6. Pete Heller – Big Love 
"There were a lot of records that sampled disco tracks in the late 90s. Most of them – like I alluded to above – took the chorus from what was a big disco record and filtered them up and down to make a big house record. What I love about this record is that it took 2 tiny vocal cuts & 1 instrumental loop from the middle of not-so-huge disco record 'Wear It Out'  and developed them into a completely different record. I doubt anyone could sample any other parts from Stargard's original and make a better record than 'Big Love'. It's not always possible but when I'm sampling tracks my ideal is to do something like this."
7. Slam – Eterna

"This is my favorite Scottish dance record. Not only did this standout a mile when it was released but it still sounds amazing today. The balance of musicality and bottom end drive it possesses makes it an absolutely perfect dance music anthem. Slam might play blistering techno now but in the early days their sets featured the very best in US and European house music and without their (and Harri's!) taste-making I would not have discovered half the records that shaped the kind of sound I make now."
8. The Beloved – Celebrate Your Life


"My first big DJ residency in Glasgow was at The Tunnel. After a year or so of playing the back room I was given the main room on a Saturday night. The previous residents had a tougher, more commercial Euro playlist. I was fairly evangelical about house music at that time and so tried to entertain people with deep NY-style house & garage. It was generally a tough job but this record never failed to fill the floor. I think the fact that I got my DJ schooling in a venue where you had to work hard to keep people dancing to new music made me a DJ that was always more about entertaining rather than educating a crowd. In the beginning when I started producing I didn't have the confidence and the skills to make the kind of records I would be really happy playing peak time so I kinda copped out and made a bunch of essentially warm up records. I'm really happy now I can make tracks that I can stand behind artistically and also play peak time and it is probably thanks to The Tunnel."
9. Heaven & Earth – Prescription Every Night

"When I started producing in the mid-90s I was pretty snobby about sampling. I felt like a lot of the records that sampled disco tracks were just stealing from the past and not really making any contribution to house music as an art in the 90s. Those thoughts probably stemmed from my lack of understanding about sampling. I had never tried sampling disco records and was just looking down on it from afar and making assumptions (always a dangerous thing!). I stopped working with Mylo and Linus Loves around 2006. Before that, pretty much all my records were made with someone else. When I started trying to make records on my own I really struggled to write parts that compared to the music my previous partners had written and so I started sampling more. The more I did, the more I discovered that its not as easy as I thought! Finding that special slice of an old record that you can loop around into a house groove is a real art. For me, there were not many people in the 90s better at it than Rob Mello and Zaki Dee. This is one of my favorite things they did and released on one of my favorite labels by Chez Damier – one of my favorite DJs and another huge influence on me."
10. The Untouchables – Lil' Louie's Anthem

"The one thing that I often felt was lacking from disco sampling records was the kind of structure that would mean the record would last repeated listens and allow it to become a real club anthem. However, adding a more song-like structure to a club record is difficult. It often leaves you with too much of a pop feel and DJs will be turned off. And, aside from the aesthetic issues, its often difficult to find another loop from a record that will work as a second hook! For me, Masters At Work are two of the finest house producers when it comes to vocals and the skills they had in making great DJ-friendly club songs carried over into their sample work. This is Kenny Dope on his own taking some bits of Brenda & The Tabulations – Lets Go All The Way (Down) and turning it into a house track with a brilliantly addictive structure. And released on one of myfavorite labels, and another huge influence, Strictly Rhythm."
Kevin McKay's 'The Lover Forever' will be out on May 25th via Glasgow Underground. You can grab your copy here.
Follow Kevin McKay:
https://www.facebook.com/kevinmckaymusic
https://soundcloud.com/kevinmckay
https://twitter.com/kevinmckay