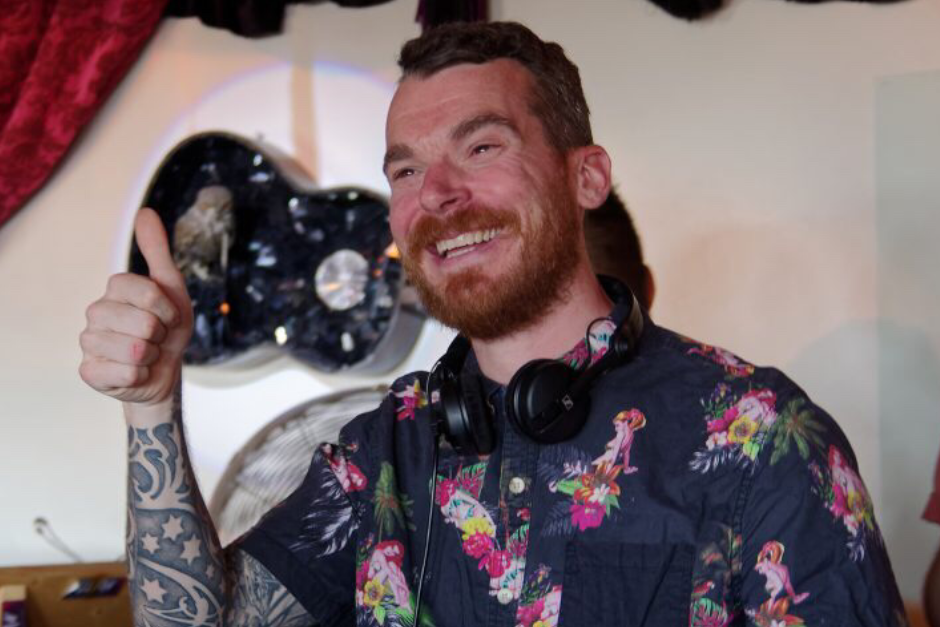 Matt Kus shares some of the most influential tracks in his music career
Matt Kus is the founder of Berlin Bass Collective and Smooth Operators. During the last years he has been promoting successful parties in the German capital city.
This time Matt Kus shares some of the most influential tracks in his music career.
1. Flasha Flashlight – Benjamin Ball
"Super happy, bouncy South African reggae that will make even the most self-important digger smile
This track is South African reggae that gets you instantly smiling, bouncing along with the beat, and singing along! I first heard this track when one of my closest friends in the world, Marco (artist name: Marco Oh Boy!), played this at the first Disco Kiez auf dem Dach party that we had on the beautiful rooftop in Neukolln last March. It was both his debut playing at one of our parties and our first time doing the party at Klunkerkranich. It was such an amazing party with such good vibes, so many people from totally different backgrounds and scenes dancing together! I really believe that vibe was what led Robin, Alex, and Fillipp to invite us to do the party once a month there for the rest of the year and now Klunkerkranich is the home of Disco Kiez!"
2. Time to Move – Carmen
"Transport yourself to a foggy, neon-lit, packed dancefloor in 1984 where everyone is a superstar and you feel like Gem!
My favorite DJ, an amazing person, and a good friend Regina (artist name: Zola) played this track at our first Disco Kiez club night in Loftus Hall in January of last year when she played an amazing 3 hour set. Every element of this track from the straightforward Casio sounding bassline, to the super cheezy but also haunting synth chords (like happy ghosts), and then amazingly basic but perfect siren, all combine to make this a track the perfect example of 80s boogie. When Regina played this and the disco lights were flashing and everyone was dancing and sweating together in Loftus Hall it was such a perfect moment!"
3. Fire in My Heart – Escape from New York
"80s boogie post-disco banger that builds up a vibe and makes you feel like you are on fire
This was my first year attending ADE in a business role as a label manager/booker for Berlin Bass Collective and I had a great time learning a lot and making some great connections. One of the people I was lucky enough to meet was a super talented, super friendly, and truly inspiring label manager, producer, and DJ named Isis (artist name: Esette). We met in a panel about sampling rights and became fast friends and at the end of the week we saw what ended up being one of the best sets I saw all year when DJ Harvey played 8 hours at De Marktkantine. He played this track and I truly felt my whole body tingling and the vibe on the dancefloor was so perfect, it really made a big impression on me and it was great to share that moment with my new friend!"
4. African Love Song – Gepy & Gepy
"Truly beautiful disco track that takes you on a journey, lifts you up and makes you dance and sing along
My good friend and the co-founder of our disco sub-label, Smooth Operators, Stoyan (artist name: Charlie Smooth) introduced me to this disco treasure that remains one of my favorites! I first met Stoyan when I went to his night, Disco Train, on the recommendation of another DJ friend, Mandel (artist name: Mandel). Shortly after I walked into the club, Stoyan played this track and everyone went crazy during the chorus and instantly I knew I was going to get along well with him as I was also in the middle of the dancefloor singing along and waving my hands in the air!"
5. Estrelar – Marcos Valle
"Brazilian funk that transports you mentally to a warm beach with a Caipirinha in your hand
I first heard this track when my friend Manuel (artist name: Manel) played it at our first Disco Kiez party in August of 2016 in Loophole. It is so light and happy, so fun and easy that it gets everybody dancing and feeling good and it was really the first track that got me interested in Brazilian records. Since hearing the track at that first party I think it has become somewhat of a tradition for one of the DJs at our monthly Disco Kiez parties to play it and it still gives me the same light and happy feeling each time I hear it! My friend Marvin (artist name: DJ Rotwein) was so excited to get the recent repress of this and it really showed me how music from a totally different part of the world can bring together so many different people from different countries and different ages!"
6. Sex – Black Loops
"Super smooth, super chill, super sexy deep house banger that makes you feel like you are floating on the dancefloor
We were lucky enough to have Riccardo (artist name: Black Loops) play at three of our House of Love parties this year but in all honesty it was another DJ, Jon (artist name: Ephemeral), who introduced me to this amazing track. I had Jon and another friend who is also a super sick DJ, Cheng (artist name: Cheng NWSH), over to my place to record a podcast and Jon played this record and it seriously hit me. I simultaneously wanted to move but also close my eyes and just feel the intense soothing warmth that comes from the bending tones and the light synths – it was like I was floating in a warm pool but also wanted to bounce along with the beat at the same time. This track remains one of my favorite tracks of any genre of all time and I listen to it at least once a week."
7. Winona – DJ Boring
"The definition oflo-fii house – deep, moody, gritty, soft but also at the same time banging. Gives you the feels and makes you bounce.
I had heard this track a number of times on Youtube in January 2017 and it always made me feel at the same time super sad but also super good – at first it confused me and I didn't know how to feel about it. When I was in Amsterdam in February I went digging in Rush Hour and came across the record – when I played the vinyl in the shop I had a very different experience from just hearing the track on the computer and I really connected with it. It's definitely a very different vibe than what most people associate me and our parties with (happy, uplifting, bright) but it really gives me the feels and at the same time I can really lose myself in it and start bouncing along with the track. It definitely wouldn't fit into a set I would be playing but I listen to it at home regularly and I spent many nights last summer at the Koffain lofi nights really just letting go and feeling super strongly to tracks from DJ Boring, Mall Grab, DJ Seinfeld, Windows XP, Luz1e, Jesse Bru, Ross from Friends, and Interstate. I'm super psyched that we will be having our first lofi night this February (23.02) in Farbfernseher here in Berlin where we will welcome Jesse Bru as a guest!"
8. Giovanni Frizzante – Johannes Albert
"Italo 80s synth vibes on another level that make you feel like you are drinking a crystal pepsi while driving a red Ferrari into the sunset on Miami beach in 1982
My friend Matas (artist name: Mountak) played this at our House of Love party in Prince Charles last October. I wasn't able to be at the party because I was on my honeymoon driving a camper van from LA to Bryce Canyon with but my friend Kit cut the sets and sent them to me to listen to as we were driving. As soon as this track came on I almost crashed the van because I was bouncing and waving my arms around so intensely! This track literally brings tears to my eyes – the synths, the bassline, then the pianoooooo! The pianooooooooo! This track will make anyone start to groove and should be mandatory listening for anyone who wants to learn about Italo or 80s sounds – it definitely doesn't hurt that Johannes Albert is an amazingly friendly and cool person!"
9. Walking on the Neon (Beatmaster Mix) – Peter Richard
"Italo synth banger that works at peak time to keep the energy super high while also staying super cool
One of my first friends in Berlin who has grown into an amazing producer and a great DJ, Justin (artist name: Justin Ramsey), played this track in the mix he did as a "Mix of the Day" for Data Transmission last August when his EP "Don't Just Keep Me" had just come out. The mix really showcases his amazing taste in minimal and deep house but then towards the end as the energy is building up he mixed this track in and as I was listening through this was the point when I had to jump up and start dancing in the middle of my living room because this track is so perfect! Please don't play this track if you are opening a night because it is so high energy that you will totally ruin the ability of the person coming on next to build anything up or go any lower!"
10. Can't You See – Rick Wade
"Disco house done perfectly – bright, beautiful, uplifting, positive and just perfect for sending a message to someone special.
This is another one that my friend Regina (artist name: Zola) introduced me to when she played it at our first House of Love party last April in Loftus Hall. The track itself is a super simple loop but the way it is put together with the vocal just hit me super hard and made me feel exactly what the lyrics are saying "can't you see, I wanna be with you, im so in love" – As Regina played this I was dancing next to my, at the time fiancé, Maren and I immediately grabbed her and wanted to hold her and dance together because the track was expressing how I felt about her. In August of last year I played the track at our wedding and every time I hear it I associate it with an overwhelming feeling of love, not just for my partner Maren but for my friend Regina, for all of my friends who make our parties and records possible, and for the fact that I am now able to live the dream I had as a 15 year old kid to have a record label and make music my life!"
Follow Matt Kus:
https://www.facebook.com/Mattvonschlecktekiez
https://berlinbasscollective.com
https://www.facebook.com/berlinbasscollective
https://soundcloud.com/berlinbasscollective