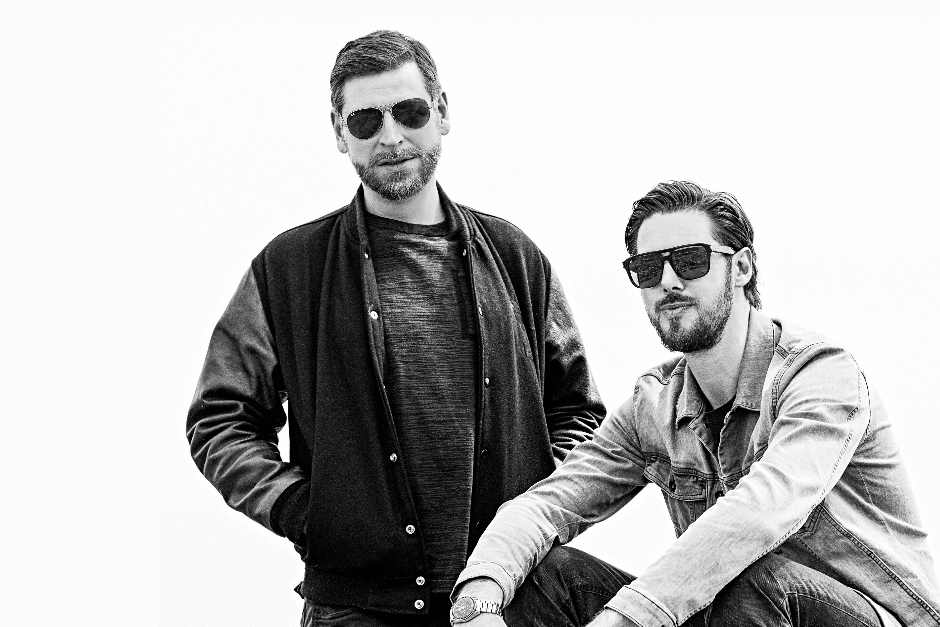 Moonbootica share some of the tracks that inspired their latest album 'Future'
MOONBOOTICA saves lives. MOONBOOTICA guarantees the fun of excess. A great gift to mankind. Without fun, this world would recede into clouds of grey. And who wants that? With MOONBOOTICA, everybody has the freedom to say no to grey. On one condition: fun has to be discovered and used to full effect, with every sinew stretched. Once you've got that far, things begin to relativize, delusions of grandeur seem as easy as ABC, thanks to MOONBOOTICA. The powers that be strive for greatness, growth, expansion? MOONBOOTICA rise up to the challenge twice over! Composure through relativization, at the end of the day, MOONBOOTICA always have more in the tank. This calming influence comes courtesy of the "bigger than life" mindset, the classic Funkadelic lesson succinctly stated: "Free your ass and your mind will follow."
Moonbotica just released their latest production 'Future'. For the special occasion they share some of the tracks that inspired their latest album.
1. Black Van – Yearning
"I did this project, Black Van, together with Kris Menace, around 2010. I am still loving this track so much & playing it in those special moments, when you know there is a special kind of love in the air."
2. Jungle – Platoon
"Do you know the feeling when, pretty much, all new music is boring you and you get frustrated? While I was in that mood, I heard this first single from Jungle and it totally blew me away! Old-school vibes but still, somehow totally fresh: What an inspiration."
3. Isley Brothers – Voyage To Atlantis
"One of my all-time favorites. There isn't really a lot to say about this one. These guys are legends and I love their music."
4. Freeform Five – Perspex Sex (Ewan Pearson Remix)
"We must have played this track a thousand times. The perfect club tune and a perfect example of how a great remix can expand the feeling of a song."
5. Metro Area – Miura
"As a musician, this is totally inspiring because they created their very own sound with just this one album, Metro Area (2002) and even 16 years later, it's still remarkable and totally recognisable."
6. Röyksopp – What Else Is There (Tentemøller Remix)
"We started to play this track again a while ago. A great example of Trentemöller's impact around that time. The sound and the energy really blew us away and we've had countless great club moments with this jam."
7. The Revenge – Night Flight
"Lovin' most disco edits, but this one from The Revenge is still one of the best. Even with two broken legs, this would make me get up and dance!"
8. Moonbootica – Sun of Ra
"We produced this track over two years ago and released it on Katermukke in the Summer of 2017. It was quite well-received and we are still playing it out a lot, so we decided to include it on our new album. It is the only track on our new album, Future, that wasn't produced specifically for the LP."
9. Fet et Moi – Paris Is For Lovers
"We've never been so into this whole mash-up thing, but there are a few exceptions. This one, for example, can tear-down every club, if you play it in the right moment of course. Still feeling this one after many years."
10. Lil Louis – French Kiss
"I used to say that my experience with house music was Daft Punk / Roulet, with their French filter house. One day, I realized that it was in fact way earlier. While living in a small town in Germany, French Kiss was the first real house track that reached me. Thank you Lil Louis."
Moonbotica's 'Future' is already available. Grab your copy here.
Follow Moonbotica:
http://www.moonbootica.com
https://www.facebook.com/moonbootica
https://soundcloud.com/moonbootica
https://www.instagram.com/moonbootica_official