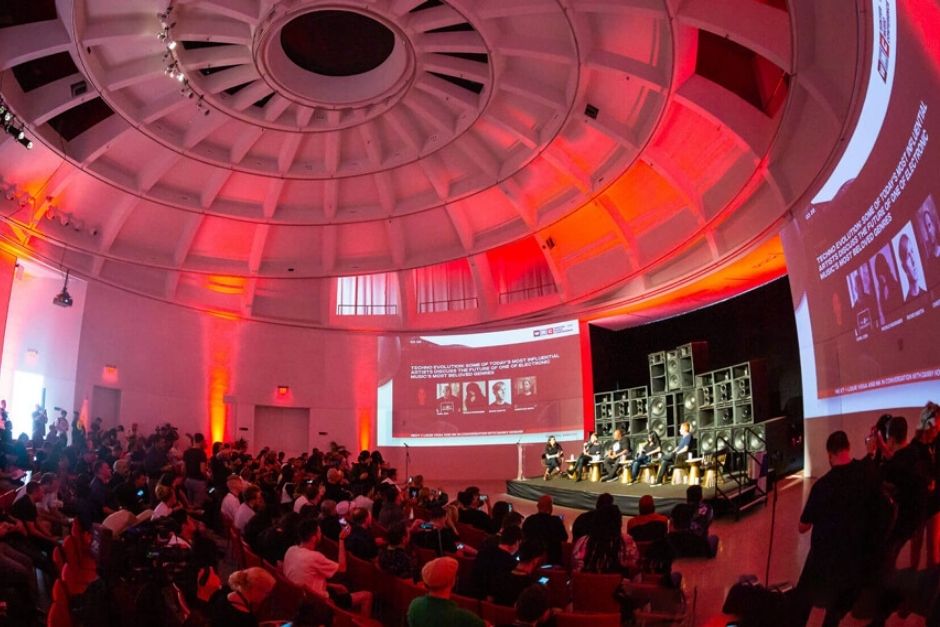 Winter Music Conference Virtual revela su programación completa
El encuentro se realizará del 20 al 21 de mayo de 2021.
Winter Music Conference Virtual (WMCV) unió fuerzas con The Magnetic Agency Group y VRJAM para llevar a cabo "una cumbre digital centrada en la reconstrucción, el replanteamiento y la innovación". En alianza con otros socios importantes de la industria, el evento reunirá conferencias magistrales, paneles y stands de expositores digitales con el objetivo de inspirar, educar y reconectar.
Durante dos días, del 20 al 21 de mayo de 2021, se realizarán conferencias magistrales en vivo, paneles y también habrá salas de networking, junto con un grupo de stands de expositores digitales. Después de los paneles, habrá una happy hour de networking y una after-party virtual. El segundo día será una celebración de la música electrónica en 5th Dimension con demostraciones de productos y la exhibición de música oficial de WMCV.
El WMCV se desarrollará en Hopin, una reconocida plataforma digital en vivo que permite transmisión de alta calidad, interacción atractiva de los participantes, redes, stands de expositores personalizables y muchas de las características que los participantes buscan en los eventos de IRL.
Conoce la programación a continuación: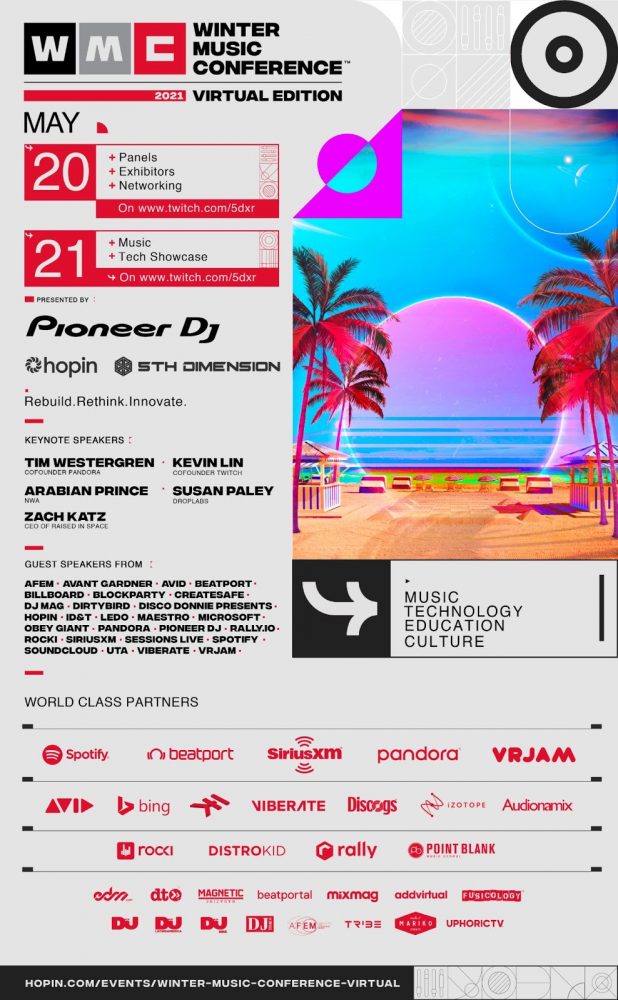 Día #1
Discurso de apertura: The Stranding of the Modern Musician – Con Tim Westergren (Pandora / Sessions Live, cofundador). Moderado por Katie Bain (Billboard)
El futuro de la realidad virtual y los eventos virtuales en vivo: con: Ari Evans (Maestro.io), Anthony Kennada (Hopin), Gina Rosales (Make It Mariko), Raul Navalta (AddVirtual), Dan Scarcelli (Monstercat). Moderado por Sam Speaight (VRJAM / 5th Dimension)
Discogs Presents – Redefiniendo al coleccionista – Con: Jazzy Jeff (DJ / Productor), Lolo Reskin (Sweat Records Miami) y Cameron Schaefer (Vinyl Me Please). Moderado por Jeffrey Smith (Discogs)
El poder de la lista de reproducción: desde el descubrimiento de la música hasta el marketing musical, la lista de reproducción ahora reina suprema, con: Jonas Tempel (Beatport), Rida Naser (SiriusXM), Andrew Marcogliese (Pandora). Moderado por Tommie Sunshine (DJ / Productor)
La fuerza en los números: cómo usar el análisis de Viberate para comprender la industria de la música, con Umek (DJ / Productor) y Vasja Veber (Viberate)
¿Cómo colaboran los artistas y las marcas en la vanguardia de la tecnología? Con: Shauna Alexander (Soundcloud), Daouda Leonard (Creatsafe), Geoff Colon (Bing / Microsoft), Susan Gloy-Kruse (Beatport), Sarah Hildering (Ledo), Angelica Ayala-Torres (UTA). Moderado por Seth Combs (Sessions Live)
Presenta Avid – Sube de nivel tu producción – Con: Junior Sanchez (DJ / Productor), John Beltran (DJ / Productor), Lazaro Cassanova, Kerry Leva. Moderado por Greg "Stryke" Chin (Avid)
NFT – Una mirada perspicaz al formato más publicitado de la industria de la música desde MP3 – Con: Franklin Fitch (Blockparty), Amanda Fairey (Obey Giant Industries), Mike Darlington (Monstercat). Moderado por Declan McGlynn (DJ Mag).
What Happens Next – Reconstruyendo la industria de eventos en vivo – Presentando: Hayata Ishikawa (Avant Gardner), Disco Donnie (Disco Donnie Presents), Aundy Crenshaw (Dirtybird), Rosanne Janmaat (ID&T). Moderado por Dani Deahl.
El futuro de las transacciones: cómo la tecnología Blockchain está cambiando la industria, con: Bjorn Niclas (ROCKI), Blond: ish (Artista), Vladislav Ginzburg (Blockparty), Bryce Carr (Rally.Io). Moderado por Shiv Madan (Moonwalk).
Masterclass de Spotify – Con: Miembros del equipo de Spotify: Ronny Ho, Jesse Jacobsen, Charlie Tadman, Lucy Blair
Pioneer DJ presenta: Una conversación con Claude VonStroke
Discurso de clausura – Comercio digital 3.0 – Con: Kevin Lin (cofundador de Twitch), Arabian Prince (NWA / Entrepreneur), Susan Paley (CEO, Droplabs) y Zach Katz (CEO, Raised In Space)
After Party virtual en twitch.tv/5dxr con Ultra Music con invitados especiales: Surprise Secret Guest, GATTUSO, Redfield, Marshall Jefferson y Anabel Englund.
Proyección – LARRY'S GARAGE – La historia de Larry Levan y Paradise Garage.
Duración: 90 min / Producida por Claudio Napoli, Corrado Rizza y Massimo Mascolo para Ramp Production LLC / www.larrysgaragethemovie.com
Día #2
Exhibición de música y tecnología en twitch.tv/5dxr
Demostración de Tribe XR
Celebrando 5 años de Perfect Havoc – Label Showcase en 5th Dimension
WMCV New Music Showcase
Los videos documentales históricos de Winter Music Conference se estrenarán a través de UphoricTV.
Salas de networking: 7 pm – 9 pm PST:
The DJ and Producers Lounge – presentada por Pioneer DJ
The Blockchain Lounge – presentada por ROCKI
The VR / Live Stream Lounge -presentada por VRJAM
The Data Lovers Lounge – presentada por Viberate
Para más información sobre WMC, visita www.wintermusicconference.com.