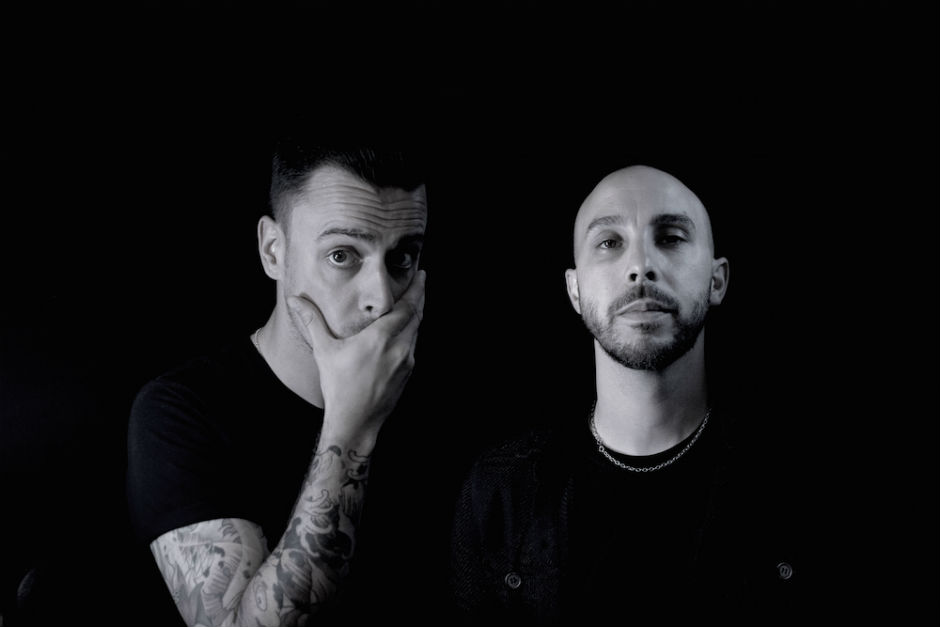 Melody's Enemy Benchmarks and Box Tickers Chart
Melody's Enemy is a British electronic music production duo and Dj act comprising of Andy Haeffele and Morgan Jones. Rugged, wonky, techno is their forte and their tunes can be found in the sets of Dense & Pika, Skream and Adam Beyer, amongst others.
Today, they celebrate their latest release 'Sleep is the Enemy' EP on Skream's Of Unsound Mind sharing a selection of heaters from their reference folder that they check their music against. If a track stands up alongside these then it gets a big tick and is allowed to leave the studio.
1. Anja Schneider – Signs – SOUS Music
"This is one of the more "traditional" techno things that we've been playing recently but it instantly went into our benchmarks folder as the stereo width on this tune is immense and something we often check against to make sure our tune has sufficient girth."
2. Tiga – Louder Than A Bomb (Dense & Pika Remix) – Turbo Recordings

"Everyone thinks we ripped this tune on Let's Begin even though it was made a couple of months before LTAB surfaced. That's fine though, rap and techno tunes are few and far between so the comparisons were always going to happen. We love using vocals in our tunes and this tune is always something we check against to see that the vocal is cutting through nice."
3. Vakuum – Speaker Sounds -Turbo Recordings

"First heard this in the car park at Tobacco Dock and the bottom end made our eyes shake so we knew it was sonically hitting where it should. The definition of the kick on this is always a good one to compare against, that knocky transient layer cuts right through the system."
4. Skream – This Love – Of Unsound Mind

"We were in the studio with Skream the other day working on a collab and it seemed a bit weirdly fanboyish that we had his tune in the Magic A/B software we use for comparing mixdowns. He was saying he wasn't sure the mix wasn't a bit top-heavy. We've changed this though and it always sounds great on a rig. I guess you're always super critical of your own tunes though. This one is big on mid-range beef which he's balanced with a boatload of cymbals. Always a good benchmark to check whether you've over-baked things."
5. Escorting Sarah – Elephant In My Box (Escorting Sarah)

"It's no secret that our musical roots sprout from the drum & bass tree, and a track like this that punches heavy with the 'Shadow Boxing' feels is always gonna get a grimacing seal of approval from us. A masterful execution of minimal darkness with sparse, wandering sound design, and the killer 'Elephant' hook. Organic four beat murder."
6. Boxia – Ethereal Education -Drumcode

"Techno is often accused of being unemotional. Boring. Robotic. Not this one through – the beautiful, cleverly modulated arp hook and emotive old-school vocal combine to create a haunting, hypnotic creeper of a track. Amazingly too for a techno lick, the kick is almost the least important element. Proof that you don't always need a bass drum sent from Ares. Classy."
7. Marco Faraone – Stage Capture – On Edge Society

"A lesson in simplicity on this. We are acutely aware of trying not to complicate our tracks and referencing this has helped us understand that 5 killer elements are better than 100 elements are just…ok. Driving beat, catchy vocal, little top line flourish, nothing else needed. Quality."
8. Boryana – Simulation (Melody's Enemy Remix) – Renesanz 

"We're not sure you're supposed to reference your own tunes when writing in the studio, but we've cast an ear over this a lot recently. When Jackrock asked us to remix it we'd just learned a few new techniques that allowed us to gain more control over the clarity and width of our mixdowns. The reception to this has been great too so if we reference a new track against it and it's "in the ballpark" then we know we're headed in the right direction."
9. Ket Robinson – Acid Trust (Piotr Klejment Remix) – Basement Reborn

"I think it was Dense & Pika that turned us on to this one, again another simple but effective banger. We cut our teeth in a scene where you typically have to change something every 8 bars so need constant reminders not to over-complicate things. This is a masterclass in that. Rugged beat and a 1 note melody….yes, 1 note!"
10. Pleasurekraft, Casey Gerald – G.O.D. (Gospel of Doubt) Part 2 ft. Casey Gerald (Kraftek)

"It's often easy to be very rigid when making techno so the low-swung beats on this instantly stood out. The wonky synth work and delay feedback on the breakdown is right up our street too. Kind of annoyed we didn't make this actually."
Melody's Enemy is available on Of Unsound Sound. Grab your copy here.
Follow Melody's Enemy: Facebook I SoundCloud I Instagram